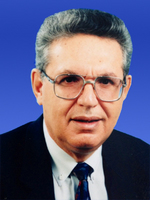 Chairman
Meirom is engaged with gems for more than forty years. As part of its activities, he specialized in large-scale production and trading of diamonds, and precious and semi-precious stones.
In 1975, Together with Menahem Sevdermish, he founded the Israeli first-ever gemological Institute, known as GIPS, which operates to this day under its new name – EGL Platinum.
Since 1987, Meirom was the president of Israeli Precious Stones and Diamonds Exchange (IPSDE) for over ten years, and was very active in advancing the gem industry in Israel and designing applicable laws, rules and regulations related to trade gems Israel. Meirom Initiated and did much to promote projects of research and development of new commercial areas in gems, and to cooperate with scientists at the Soreq nuclear research center, at the University of the Negev and at the Negev Nuclear Research Center in Dimona. Meirom also built joint activities with mining and polishing factories in Israel and abroad, and with large-scale financial factors that led to extensive donation to the gem industry in Israel.
Meirom pushed to add the IPSDE as an official member of the World Federation of Diamond Bourses (WFDB). In addition, he initiated the first International Congress for colored stones, held in Israel in 1983, and acted as the chairperson of the congress management. A year after the first International Congress, Meirom acted among other initiators for the establishment of the International Colored Stones Association (ICA). In 2003, Meirom appointed to ICA Vice President and served the role for 3 years.